Hi Ya' All!
hehehe… It's been some time but I'm back, with goodies :)
LULU sent me really really adorable hand made Bows in her X'mas Gift! Isn't it cute ?! :) Check out her blog here if U haven't already! She also sent me other items which I will do a post on soon…  THANKS Ms LuLu :) I love the X'mas items!
I've been on a makeup diet for the past few weeks and it wasn't intentional. I just didn't have anything I really really wanted and I felt that I had a little too much makeup again! hahaha… I probably have a really tiny collection compared to lots of you, but for me I keep on buying and not using stuff so I was feeling guilty. Not anymore people!  My Makeup Diet is broken :)
Here's my little haul :
1) LIME CRIME BABY!
I've been a quiet but big fan of Lime Crime. It's easy to see why people love this brand and there have been quite a bit of reviews and hype about LIME CRIME's eccentric and oh so delicious line of lipsticks.
I got 3 lipsticks and  for those of you who are familiar with this brand of cosmetics, you would be wondering why in the world I got " NO SHE DIDN'T"???? It's a Creamy BLUE color. No joke! Well, I didn't order it.
Instead of getting my peachy orangey "Cosmopop", I got a coral blue "No she didn't."  I've informed them about  this and hopefully I'll get the lipstick color I initially wanted. No Worries! I'm going to review D 'LILAC first :)
I was so excited to get this lipstick because I adore the packaging. The unicorn is what childhood fantasies are made of and I would have no problems using this lipstick in public. It's so pretty, I'm sure people won't mind me touching up in the train or in public :P hee
Truth be told, the initial swatches of D'Lilac made me worry. The color was very sheer and I had to reapply quite a few times to get the intensity. Also, I was pretty upset because I was in my living room( with very yellow lighting)  and my mom was like  " I can't see anything on your lips" and the more I applied the more the actual pigmentation showed. Than, I went out to the mall with this lipstick  and in the bright white light, my mom said " hey, actually, this lipstick color is pretty nice and it's looking more and more purplish" …. so my conclusion is that, the initial swatches will be very sheer but once u have swatched it 5 times and up, the pigmentation is crazy good.
Phew…
This is one lipstick that will take some getting used to. The color is not easy to wear and I have noticed that the best application is when I use my fingers to dab it on. The amazing thing about this lipstick is that the color really becomes more pigmented after sitting on the lips for some time  and it does not budge much. I tested it out with a clear orange Urban Decay Lipgloss that Miss Lulu sent me as a X'mas gift and it did not move around like most of my lipsticks do. The staying power is crazy…
In fact, I totally recommend wearing a lip gloss on top of it cause it has great holding power and can look more pinkish or more purplish depending on the color lip gloss you have on. Also, you will  have to exfoliate your lips super well and moisturize them for a few minutes before using this lipstick. It is drying and can make dry peeling lips look worse. I recommend a lip liner for this color because it is very pale and can look very jarring if not blended into lips well.
Not for the faint hearted or the conservative, D'Lilac takes some getting used to but once you have warmed up to it, it's absolutely darling & highly highly pigmented. I'm still experimenting with it as I want to find the best way of wearing it.
Here's a swatch of  D'Lilac  alone :
And paired with lip liner (nude) & orange Urban Decay Clear Lip gloss ( yummy):
                 + 
               +  
             =
2) MAC - CHERISH ( SATIN LIPSTICK ) + Fashion Patch
Since I'm mad for Honey Love, I just had to get another color. I couldn't get Myth after asking at a few MAC outlets so I settled , quite happily on CHERISH!
Cherish is super easy to wear, as it is a warmer color as compared to Honey love and my lips love the SATIN texture.
I adore this color!
Also, I couldn't resist this eye shadow color – fashion patch :
The lighter shades are so sparkly and vibrant! Can't wait to do some looks with this eye shadow :)
Moving on, Atelier Gal tagged me to see what's in my makeup bag!!
I'm excited to show u, it's not as much as you would expect :( I'm pretty stuck on basic essentials when I go out, I don't have time to reapply makeup constantly so this is it :
Omg, I'm so boring. I want to see what u all have in ur makeup bag, cause I bet it will be 10 times more exciting than mine. I also secretly have a fear of losing my most favorite makeup as I can be rather forgetful and klutzy, so I prefer to leave them at home where I won't lose them!!!
Speaking of which, for those of u who love watching anime, go watch SOUL EATER!
I've always been in search of an anime that could rival NARUTO and I've found it! SOUL EATER is my absolute favorite anime  and it's right up there with Naruto , Kiba, Ruonin Kenshin , Samurai Champloo !! The storyline resembles Bleach in terms of the settings, terms ( shinigami) and the rough concept, while the wit and humour of all the characters are on par  and sometimes even better than Naruto! I recommend this anime for a great laugh, a weird and quirky setting and for a fresh blazing hot anime! I like the characters so much and I sometimes feel like I'm watching myself or my friends in this anime. Love love love SoulEater.
I ADORE BLACK STAR cause he is such a hilarious Dumbo. He's my anime idol for now cause he makes me laugh so hard!!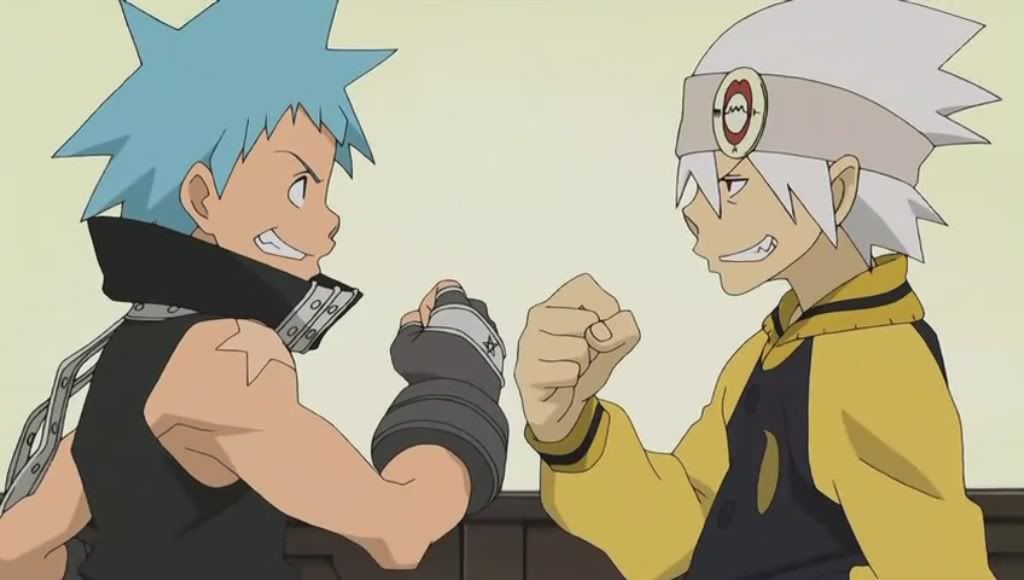 I guarantee a good laugh, a fun chuckle and an addictive anime with SOUL EATER. *LUVS*
GREAT WEEKENDS SWEETIES!!