This is what being confined in the home does to a beauty addict – it makes me crave for even more makeup… …
Dolly Wink has been featured on so many blogs. It's a must have just like the NAKED PALETTE by Urban Decay. Strange comparison I know but I really really want both items!
I would buy Dolly Wink Products just for the packaging because it's so cute. I've read reviews on the liquid and pencil eyeliner and I've decided that their eye liner is a must have item! The chocolate brown  shade looks lovely! Check out Cosmetic Candy's review here !
Next up is Dolly Wink oh so talked about lashes. I am game to try them all especially the lower lashes as it isn't easy to find seamless & easy to apply ones! Apparently, I was reading that they cost more than MAC falsies thus my expectations are pretty high for this line by KOJI.
My eye bags are big and black and SANA concealers are good and affordable and it dose not irritate the skin around my eyes! Time to hide and zap away all evidence of late night feeds!
Urban Decay 24/7 Glide on Eye Pencil ! I want Zero ( BLACK ) Apparently, these stay on super long! I really want to other colors too ~ they look FUN!
Lastly, I would love to try on Canmake's Perfect Brown Eyes & Melty Nude lip. The eyeshadow swatches really well and I love the lipstick colors!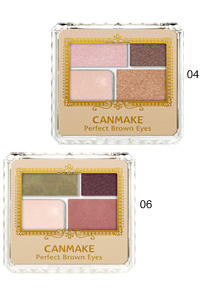 Do you have your eye on any beauty products?? I would love to know and maybe I can add them to my ever growing list!